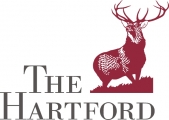 With more than 200 years of expertise, The Hartford Financial Services (NYSE: HIG) is a leader in property and casualty insurance, group benefits and mutual funds. The company is widely recognized for its service excellence, sustainability practices, trust and integrity.
Our Management Team
The Hartford Group is a large multifaceted company organized to respond rapidly to customers' changing needs.  At the core is a management team dedicated to service and ethical excellence.
The Hartford Overview
At The Hartford, we work hard every day to make a positive difference in the lives of others, from customers and agents to business partners and neighbors.
The Hartford's History
An interactive timeline, tracing The Hartford Financial Services Group's 200-year history.
Vision, Mission, Values
We help our customers pursue a financially secure future by anticipating their needs and providing competitive financial products.
Social Responsibility
We have the utmost respect for the people we insure and guide financially.  We go to great lengths to meet the career and personal needs of our employees.   And we value reaching out to others with a helping hand.
Corporate Advertising
The Hartford's multi-media advertising campaigns reach millions of customers worldwide – including individuals, institutions and businesses.
Corporate Sponsorships
There's more to The Hartford than insurance and investment expertise. We're big supporters of one of the world's most exciting and inspiring sporting events, the U.S. Paralympics.
Business Continuity
We believe that effective planning is key to reducing the effect of any disaster and dedicate significant resources to business continuity planning and testing. With a true dedication to business continuity, we've supported critical business activities during earthquakes, fires, hurricanes and other natural and man-made disasters for 200 years.
Affinity Relationships
The Hartford is proud to have established strong affinity relationships with a number of key organizations.